It seems like this woman can do it all....
Mother, elementary teacher,
and
an amazing jewelry designer!
Analiese Designs
is a Connecticut based jeweler who I recently found
on Etsy.com.
She makes all kinds of gorgeous beaded jewelry and rings, but what really caught my eye was her wide array of rad polymer clay jewelry.
What a medium! Her clay pendants are so great,they range from pretty
hibiscus flowers
to the
absolutely hysterical!
And then I found something i couldnt live without...
A Customizable Photo Pendant!
Whats great is that its intended to be your child and she will add a Swarovski crystal in their birthstone..Well, I dont have kids, but I do have two little boobies that needed to be bling!
I give you, Nikolai & Magdalena, in jewels..
How freaking
awesome
is this??
This is the photo I sent her so you can see how accurate it is: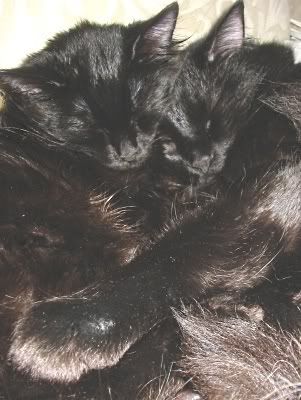 Im already in love, she has a customer
for life!
So check out her lovely shop! Have her make you a pendant of your kitties ;)
Analiese Designs Etsy Shop
Analiese Designs.com