I get so many compliments on this bad boy at shows that i thought I would give it its own blog entry. This is my radical earring display that is not only super functional but looks like it could kick your ass!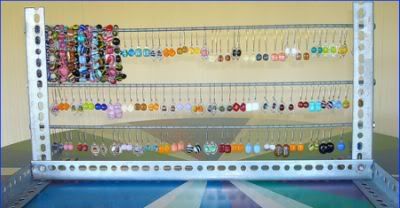 My earring findings close funky so the display we made needed to have a dangly element.I am a sucker for all things metal, glass, modern.. so I was instantly drawn to this Erector set metal in the hardware store. Add a long threaded dowel and a box of nuts & bolts and $20 bucks and a little cutting and assembly work later you have a sweet earring display!
The displays I use are constantly changing and being tweaked here and there. This earring setup was initially created for my table at the
Maker Faire.
You can see it has changed quite a bit! Just use what you have, think outside the box, and dont stress it!